2015 CLC GRAND NATIONAL EVENT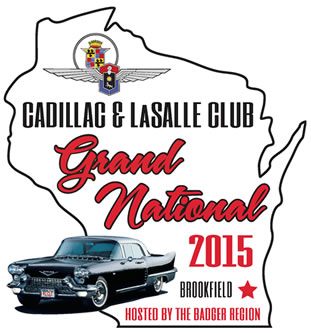 Mark your calendars! June 24 - June 27, 2015 are the dates!
Vehicle and Event Registration Links are available below hotel information.

Please Note: Beer Barons Tour on Friday, June 26th is already SOLD OUT!
Grand National Optional Driving Tour, Tuesday June 23rd is SOLD OUT!
Milwaukee Sheraton Hotel in Brookfield, Wisconsin the place!
Click

HERE

for reservation information!
Questions? Email:

Thomas Sanders

Phone: 414-517-1345
MEET HEADQUARTERS
Milwaukee Sheraton Hotel
375 South Moorland Road
Brookfield, WI 53005
262-364-1100 (Reservations phone number. Mention the 2015 Cadillac CLC Grand National when calling.)
Grand National Room Rate: $104 + 13.1% tax per night.
Secondary Hotel
Brookfield Hotel and Convention Center
1200 S Moorland Road
Brookfield, WI 53005
262-782-2900 (The CLC Grand National rate of $109 plus 13.1% tax for a single or double king suite includes breakfast and the manager's evening reception. Call directly and ask for the Cadillac & LaSalle Club rate. )
HOTEL INFORMATON
The Sheraton is one block north of I-94, convenient to Brookfield Square Mall, a large shopping center. Indeed, the hotel is on the same grounds as the mall. It offers free shuttle service from the airport. In addition to a fitness center you can enjoy both indoor and outdoor swimming pools. As usual, please no pets, skateboards or bicycles and no tents on the show field. We will be providing security but parking is at your risk. The Brookfield Hotel and Convention Center is located just south of I-94. They also offer shuttle service.
Driving Directions
The Milwaukee area has recently completed a major redesign of the freeway north of the airport so follow the signs. Do not count on your navigation system unless it has been updated. A second major project underway is a redesign of the Zoo Interchange, effecting I94, I894 and Highway 45; again navigation should not be relied on.
From the West: I-94 east to Moorland Rd. (Exit 301B).
From the Southwest: I-43 to Moorland Rd. (Exit 57). North past Greenfield Ave. to the Brookfield Hotel and Conference center and one block beyond I-94 to the Sheraton.
From the South: I-94 to I-43 south (Exit316) to Moorland Rd (Exit 57) see above.  This route will avoid the Zoo Interchange.
From the Northeast: I-43 to I-94 west to Moorland Rd. This is via the Zoo interchange and may involve a detour.
From the North: Highway 41 to Highway 45 to I-94 west to Moorland Rd. This is via the Zoo interchange and may involve a detour.
Those of you driving from the east have the option of taking a ferry across Lake Michigan. The Lake Express from Muskegon to Milwaukee travels at 40 MPH and crosses the lake in two hours once it clears the no-wake harbor. The SS Badger is a historic ferry operating between Ludington and Manitowoc WI. It is the only coal fired steam ship still operating in the United States. The ship is large, capable of transporting over the road trucks, and once handled rail cars.
I encourage you to visit our website often as we add more details on the 2015 CLC Grand National. We sincerely want to make your visit to Wisconsin a pleasant and enjoyable experience.  Memories are made in Wisconsin!
Bill Klemp,
Director of the Badger Region CLC.